Posts for: February, 2021
By tlantic Dental Care
February 20, 2021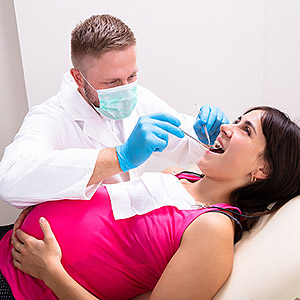 Learning you're pregnant can change your life in a heartbeat—or now two. Suddenly, what was important to you just seconds before the news takes a back seat to the reality of a new life growing within you.
But although many of your priorities will change, there's one in particular that shouldn't—taking care of your dental health. In fact, because of the hormonal changes that will begin to occur in your body, your risk of dental disease may increase during pregnancy.
Because of these hormonal variations, you may find you have increased cravings for certain foods. If that includes eating more carbohydrates (especially sugar), bacteria can begin to multiply in your mouth and make you more susceptible to tooth decay and periodontal (gum) disease.
The hormones in themselves can also increase your risk of gum disease in particular. There's even a name for a very common form of gum infection—pregnancy gingivitis—which affects around two-fifths of pregnant women. If not treated, it could aggressively spread deeper within the gums and endanger both your teeth and supporting jaw bone.
The key to minimizing both tooth decay and gum disease is to keep your mouth clean of dental plaque, a thin bacterial biofilm most responsible for these diseases. You can do this by keeping up daily brushing and flossing and maintaining regular dental cleanings and checkups. Professional dental care is especially important during pregnancy.
You may, though, have some reservations about some aspects of dental care, especially if they involve undergoing local anesthesia. But many medical organizations including the American Congress of Obstetricians and Gynecologists and the American Dental Association recommend dental treatment during pregnancy. Even procedures involving local anesthesia won't increase the risk of harm to you or your baby.
That said, though, elective dental work such as cosmetic enhancements, might be better postponed until after the baby is born. It's best to discuss with your dentist which treatments are essential and should be performed without delay, and which are not. In general, though, there's nothing to fear for you or your baby continuing your regular dental care—in fact, it's more important than ever.
If you would like more information on dental care during pregnancy, please contact us or schedule an appointment for a consultation. You can also learn more about this topic by reading the Dear Doctor magazine article "Dental Care During Pregnancy."
By tlantic Dental Care
February 10, 2021

In the midst of the current global pandemic, we're all focused on staying healthy and avoiding infection. For many, their first thought before resuming any regular activity is, "Will I or my family be safe?"
If you've asked that about visiting the dentist, rest assured, it is. In fact, dentists have been at the forefront in protecting patients from viral and bacterial infections for decades. Here's why you're in safe hands at the dentist's office.
Barrier control. Although we're focused at the moment on Covid-19, there are other pathogens (microorganism that cause disease) for which there has been an ongoing concern among healthcare providers. Many of these like the viruses that cause hepatitis or HIV/AIDS spread through blood-to-blood contact. That's why we routinely use gloves, face shields and other barrier devices, even during routine visits, to prevent bloodborne transmission between patients and staff, or other patients.
Disinfection. Viruses and other pathogens may continue to live on surfaces in treatment areas for various durations. To prevent their transmission to humans, we follow strict procedures for disinfecting all treatment-related surfaces after each patient visit. One-use treatment items are disposed separately from regular waste. Permanent instruments and equipment are cleaned and thoroughly sanitized to the highest standard.
Protocols. There are approximately 170,000 dentists across the U.S., yet each generally follows the same high standards for infection control. Regulating bodies at state levels have made infection control a crucial part of licensing requirements and continuing education, and every dental practice must have an infection control plan they meticulously follow. Because of these strict standards, an infection occurring in a dental office setting is extremely rare.
In addition to these regular procedures, dentists have also added extra safety measures to better address the current crisis, and will continue these until the crisis has abated. Staying knowledgeable and flexible to new challenges is also a feature of dental providers' infection control mission.
If you do have concerns, please feel free to contact us to learn more about the specific measures we have in place to keep patients safe. Protecting you and your family during dental care will always be our top priority.
If you would like more information on patient safety at the dentist's office, please contact us or schedule an appointment for a consultation. You can also learn more about this topic by reading the Dear Doctor magazine article "Infection Control in the Dental Office."